Audi has unveiled the third in a series of concept cars dedicated to the future of mobility, this time focusing on urban transport in China.
The Audi Urbansphere concept was built with the country's traffic-laden megacities, imagining a future where the vehicle can fill the gap by providing personal space where it's lacking. This is the third concept of "sphere". The company introduced its Skysphere and Grandsphere concepts last year.
In a press release, Audi chairman Markus Duesmann said engineers and designers had built a van to exemplify the desires of its Chinese customer base.
"To make e-mobility even more attractive, we thought about it holistically and based on customer needs," said Duesmann. "More than ever, it's not just the product that's decisive, but the entire ecosystem. That's why Audi is creating a comprehensive ecosystem with services for the entire car. The Audi urbansphere concept also offers everyone on board a wide range of range of options to use this freedom to provide a highly personalized in-car experience: communication or relaxation, work or retreat in a private sphere, as desired."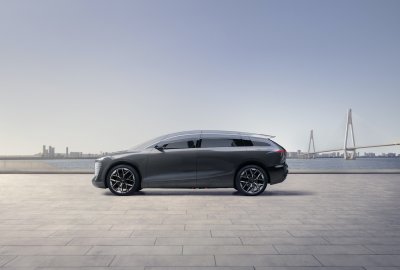 Outside, the Urbansphere takes the form of a futuristic minivan. A black grid with a hexagonal pattern takes up most of the front, while the lines along the sides tend upwards. The sloping roof tail increases the car's aerodynamic efficiency.
Robby Degraff, an analyst at AutoPacific, told Newsweek that grilles are becoming a canvas for automakers as EVs become more popular, saying the Urbansphere's "pixeled" grille design is likely to be produced.
"By not needing as much open functional space for cooling as required by a [internal combustion engine] vehicle, automakers really do have a blank canvas and the opportunity to play and tweak with the front faces of EVs, adding unique textures that even include clean creative integration of daytime running lights, turn signals, etc.," he said.
Making a van for the Chinese market is also a smart move. While the segment is known for family-oriented vehicles in the US, the story is different in Asia.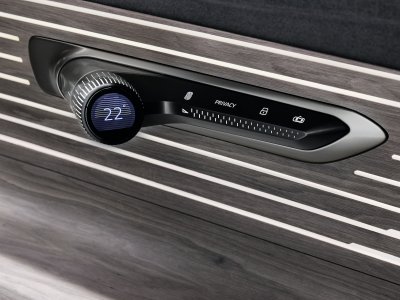 "Markets like China, Korea and Japan are teeming with sumptuous, dazzling, tech-laden vans that often do their duty carrying executives and other VIPs," he explained. "That seems to be Audi's intention with this concept, sharing the task of designing the Urbansphere directly with its team in Beijing."
A production version of Urbansphere will likely be released in the next few years for the Asian market.
Powering the concept is a 120-kilowatt-hour battery pack and two electric motors. That pair works to produce around 295 horsepower and 508 pound-feet of torque.
The company estimates the car has a range of 466 miles. Using an 800-volt architecture, Audi says the car can charge from 5% to 85% in under 25 minutes.
Audi says its adaptive air suspension with semi-active damper control makes for a smooth ride, whether on bumpy downtown streets or smooth highways.
In each of the sphere concepts, Audi paid close attention to the interior. There is no B pillar in the car as the doors are counter-hinged. As the doors open, a red carpet is spread across the floor.
Swivel seats allow passengers to turn and face each other for conversation. On the other hand, a privacy screen in the headrest can provide a passenger isolation from the person sitting next to them.
Degraff notes that as automakers introduce concepts to turn cabins into living spaces or lounges, many of these ideas will be incorporated into production models for electric vehicles. This gives passengers a comfortable space during loading times.
"We're still years away from charging times that take just five minutes like you would at a gas station, so the cabin of an EV needs to be a space that allows you to recline the seat and deploy a center console to read a book or support a chair. laptop and wait comfortably without getting out of the vehicle," he said.
The surfaces are lined with wood, wool and synthetic fabrics.
On the front, displays are designed in place of a traditional panel. The configuration of these screens changes based on the driving mode. Drivers and passengers can control and make adjustments to these screens with a combination of eye tracking, hand gestures and touch controls.
Some front and rear surfaces can be illuminated in different colors, which can adapt to traffic situations, the environment or the mood of passengers.
Audi says the van was designed around the idea of ​​future autonomous technology, which would eliminate the need for a steering wheel or pedals.